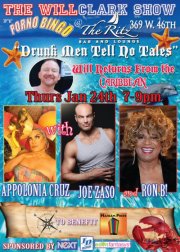 The Will Clark Show feat. P*rno Bingo Thursday January 24th, 2013
As you all know, I'll be out on vacation for 12 days, letting go of the layers of crazy that get built up from living in the best city in the world! But I'll be back for the January 24th show and I've got a great one for you!

First, I'm bringing back Appolonia Cruz for her first Bingo appearance in a couple years - should be a delight! Those of you who don't know the awesomeness that is Appolonia, are in for a treat.

Second, I've got one of my newest Bingo friends, Ron B as Tina Turner joining us for this night - who better to welcome me back to the Bingo fold than one of New Yorkers finest?

Then, hold on to your hats, indie Horror icon and Cafe Himbo host, Joe Zaso joins us for this first Ritz appearance. We'll be talking about what he's up to because something's always cooking with Joe - and sometimes it might be a limb in one of his movies! Yikes!

The whole night will be a benefit for Harlem Pride http://www.harlempride.org and will feature all sorts of great prizes that I stole, uhm brought back from the Caribbean. As of this writing, I've not left yet so I don't know which trinkets from which place I'll have.. just call it a little surprise (but a better kind of surprise than the one that one might get when one sees the phone bill at the end of an international trip! Ack!) There'll still be some erotic prizes as usual, ID lube and something special from Eden Fantasies!