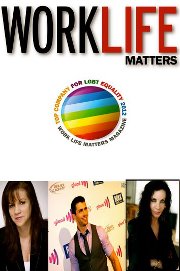 ***This is not a free event***
Cost per ticket = $495.00
To Purchase Tickets or for General Information please contact: Lori Sokol Email: lori@lorisokolphd.com

www.lorisokolphd.com

***For all PRESS inquiries contact Carolyn Gitomer at carolyn@jamesgrantpr.com***

The 10th Annual Work Life Matters Gala will be held on December 4th, 2012 at Club 101 located at 101 Park Avenue in New York City, and this will be the second consecutive year that the magazine will specifically honor companies for implementing and supporting LGBT equality programs and practices throughout their organizations. This also is the second year in a row that Credit Suisse, NBCUniversal and Unilever are being honored for their contributions to LGBT equality. Past honorees include: Alcoa; BASF Corporation; Bright Horizons Family Solutions; KPMG, PricewaterhouseCoopers; The New York Times.

ESPN and Davis Polk & Wardwell LLC join Campbell Soup Company, Credit Suisse, Discovery Communications, Eli Lilly and Co., Frank Harris Shriver & Jacobson LLP, Microsoft, NBCUniversal, NY Life Insurance Company, Orbitz Worldwide, and Unilever on the 2012 list of Top Companies named by Work Life Matters Magazine for their Pioneering Leadership in LGBT Equality.

Lori Sokol, Ph.D., Founder & Publisher of Work Life Matters, announced that all honorees will be profiled in the annual special awards issue of Work Life Matters Magazine to be published nationwide in December 2012. "We are pleased to add these two outstanding firms to this year's list of honorees, all of which are serving as corporate pioneers by supporting the advancement of LGBT equality within their organizations, as well as to the community-at-large," says Lori Sokol, "The importance of ensuring LGBT equality throughout the workplace is becoming increasingly evident, so we are thrilled to pay tribute to each of these companies that have proven to be leaders in their respective industries."


ABOUT WORK LIFE MATTERS MAGAZINE
Work Life Matters Magazine is a national business publication that provides news and analysis about the corporate, public and social issues inherent in the quest for achieving effective work life balance on behalf of our nation's workforce. Published since 2002, the publication pays annual tribute to companies that serve as leaders in their respective fields by providing innovative and effective work/life balance programs and policies for their employees.
Club 101
New York
Tuesday Dec 4, 2012
6pm-9pm