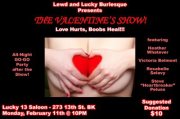 So your love life sucks? You have no game with the ladies, the fellas, or even a dog and some peanut butter. (It's ok we don't judge)

Well then come down to Lucky 13 Monday February 11th @ 10:00 PM for a show that'll do more to boost your horrible self esteem than a year's worth of therapy.

That's right Heather Whatever and Gentleman Steve are going to tell you how fucked up their love lives are and then we're gonna show you naked people!

That will make it all better...

And if you're still feeling down cause you don't have a special someone, or your special someone is getting special with your best friend, or your special someone just got a restraining order, don't worry you can drown your sorrows in cheap alcohol!

We can't guarantee you'll find true love at Lewd and Lucky but we can guarantee you'll see hot unclothed women and cry into a beer that's less than 4 dollars!

How about that!

Happy Valentine's Day Everybody!

This show's lineup is....

Brazen Boobalicious newcomer HEATHER WHATEVER

Rocking Slipper Room regular ROSABELLE SELAVY

and from the dirty Jerz, the sweet sweet Valentine's sweets of VICTORIA BELMONT!

Plus Go Go by Fabulous FOXY SQUIRE!!!

and the amazing AISSA MAE!

As always, there's the all night "Anything goes" GoGo party after the show and lovely Allison slinging cheap drinks and listenin to ya'll bitch about your problems.

Lucky 13 Saloon
273 13th Street, Brooklyn
Monday Feb 11, 2013
10pm-4am