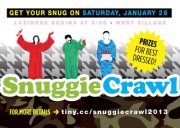 Ladies and Gentlemen,
It is with great pleasure that I officially announce the SECOND ANNUAL SNUGGIE CRAWL!

Mark your calendars for Saturday, January 26. There will be drink specials, and of course, awesome prizes for best-dressed.

If you're wondering if this is as amazing at it sounds, check out the pix from 2012: https://www.facebook.com/media/set/?set=a.10150736437833312.504621.770808311&type=3.

This gives you plenty of time to order or ask for a Snuggie, Slanket and/or Forever Lazy for Christmukkah!

Snuggie: http://www.mysnuggiestore.com/
Slanket: http://www.theslanket.com/
Forever Lazy: https://www.orderforeverlazy.com/

For more details a bit later, check back here or go to: http://tiny.cc/snuggiecrawl2013.
West Village, NYC

Saturday Jan 26, 2013
12pm-3pm