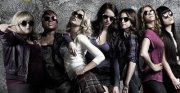 The Golden Globes will have just aired 2 days prior. Ricky and I will be presenting our version!!! THE BETTER ONE!!!

Trivia, Name That Tune, Don't Forget the Lyrics all from Movies and Television!!!

A special round about snubbed movies and tv and tv shows.

Which leads to our screening of PITCH PERFECT at 7:30.

Prizes for the winning team and a 50$ bar tab winner at the end of the night!!!
Rockbar


185 Christopher St

Tuesday Jan 15, 2013
7pm-10pm