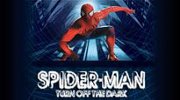 SPIDER - MAN Turn Off The Dark
Find your tickets here: http://www.ticketmaster.com/event/030048BE3117C09C?c=LNSM_FBEvent_SPIDERMANTurnOffTheDark_02102013

SPIDER-MAN Turn Off The Dark

Venue: Foxwoods Theatre
Public On-sale: Now
Prices: US $49.00 - US $147.50

A $2.00 Facility Fee is included in the displayed ticket price. Everyone (including children of all ages) must have a ticket for entry. Recommended for ages 6 and older. Attendance by children 4 and under is strongly discouraged. Once in the auditorium, they and their parent/guardian may be asked to leave the auditorium by Management if they become a disturbance during the performance.