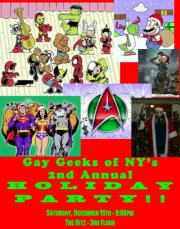 Gay Geeks of NY 2nd Annual Holiday Bash!!
It's that special time of the year!

It's the holiday season, and time to cozy up and celebrate with your fellow geeks!!

Come join us for our second annual Holiday bash, to be thrown on the THIRD floor of the The Ritz!!
That's right!
Gay Geeks of NY has the entire floor to ourselves!!

We not only get our own bartender, but we also get an area to dance the night away!!

More details will be available as the date approaches, but for now, mark your calendars and join us as we celebrate the holidays together!!

RSVP now!!