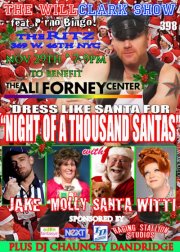 The Will Clark Show ft. P*rno Bingo Thursday November 29th, 2012
It's our annual "NIGHT OF A THOUSAND SANTAS" where we have our own naughty Santa who'll let you sit upon his lap .. for a price! :)

My guests include the always fabulous Witti Repartee along with comic Molly "Equality" Dykeman and one of our favorite studs, JAKE DECKARD.

Don't miss this night which will benefit the Ali Forney Center http://www.aliforneycenter.org as they continue to recover from Hurricane Sandy (that Sandy, what a beyotch!)

Great XXX giveaways, Happy Hour priced drinks, Bingo and all sorts of the usual P*rno Bingo fun!