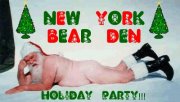 Our December gathering will be our annual Holiday Party with our 'Gift Exchange" where everyone who wants to participate brings a gift up to a value of $15 with their name on it, so the recipient knows who to thank. After we have our drawing to distribute the gifts, there will be a special twist to make things more interesting!

The nominal door fee is $7 (if we have 20 paying members, everyone will receive a $2 refund at departure!) and everyone will receive a door prize as the gifts are handed out!

The New York Bear Den was established in 2009 to fulfill a void in the New York City Bear Community. Bears are social creatures, therefore we have created "The New York Bear Den!" We provide a hate-free, alcohol-free, attitude-free alternative to the "bar scene" -- a space to socialize once a month where you can sit back... relax... meet... chat... play games and make friends with some woofy guys of all ages, races, sizes, types and interests.

The Bear Den welcomes all men that identify themselves as "bears" (a "bear", in our definition of the word, is a gay, bisexual or transgendered man with an average to large build, who may or may not have body hair and/or facial hair, a typically rugged (butch) demeanor, a tempered maturity and an optional interest in leather. NOTE: This includes those typically known as "cubs", "chubs", "chasers", and their male admirers, regardless of their own particular attributes or physical qualities).

Participants are encouraged to bring cards, board games, hobby/collector's materials, books, magazines, music and anything else they wish to share with the group...
The Queens Pride House
New York
Sunday Dec 9, 2012
2pm-5pm