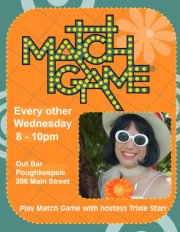 PLEASE JOIN THE OUT BAR FOR THE MATCH GAME THIS WEDNESDAY!

WITH YOUR HOST TRIXIE STARR

AND MUSIC BY PREPHAB

ITS A WHOLE LOT OF FUN!

HAVEN'T BEEN TO MATCH GAME? COME AND SEE WHAT ITS ALL ABOUT...

HAPPY HOUR IS 5-7PM MON-FRI AT THE OUT BAR.
TRY OUR NEW MENU!!!
The Out Bar
New York
Wednesday Nov 14, 2012
8pm-2am